STACI WALLACE

STORE
MISSION POSSIBLE BOOK with complete online study & curriculum 
(Forward By Zig Ziglar)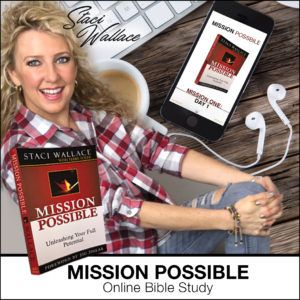 Who am I, why am I here, what is my purpose in life?" These are just a few of the questions asked every day by even the most successful leaders in the world. Join Staci in this revolutionary 28-day study of God's divine plan for your life and how you are positioned right now to change the world around you.  Never again will you have to question your value or purpose in life. Whether you are a corporate leader, mother, teacher, doctor, politician or young leader in the making, this book will radically impact the way you pursue your future.  >>>Learn More
INCLUDES:  
10 Video Lessons 

 28 Audio Teachings 

 4 Mission Reviews

 Mission Possible Book with Curriculum

 FREE Access to Warrior Reload
MISSION POSSIBLE BOOK
(Forward By Zig Ziglar)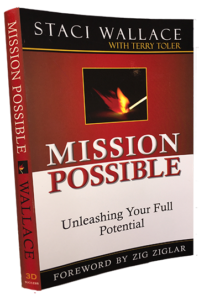 28-DAY DEVOTIONAL –
Who am I, why am I here, what is my purpose in life?" These are just a few of the questions asked every day by even the most successful leaders in the world. Join Staci in this revolutionary study of God's divine plan for your life and how you are positioned right now to change the world around you. Never again will you have to question your value or purpose in life. Whether you are a corporate leader, mother, teacher, doctor, politician or young leader in the making, this book will radically impact the way you pursue your future.   (BOOK ONLY)
MUSIC CD'S
Brand New Life
Find hope, help, and healing through this powerful CD of Christian songs written and recorded by Staci Wallace to encourage your faith and inspire you to believe in God's plan for your life.
Cinderella
Featuring Staci's best selling song, Cinderella, the CD also features Staci's heart touching testimony as shared at the popular "Cinderella Events" held throughout the world.
EMerge
Staci's latest CD and the featured songs from her EMERGE Women's Conferences. This CD also features heart touching testimonies of ordinary women who overcome extraordinary challenges through the EMwomen (Empowering Women) outreach.
I Can Do Anything
Originally released as a kids CD, today, people of all ages have praised "I Can Do Anything" and its ability to help individuals memorize God's Word through fun and catchy tunes.  Special Bonus!!! CDs include accompaniment tracks so you or your group can sing along.
MP3 AUDIO DOWNLOADS
Cinderella (MP3)
Featuring the original song, Cinderella, written and recorded by Staci Wallace. Expect to feel the impact of God's love as this song was purposefully recorded to radically change your life and inspire you to believe in His dream for your life!
AUDIO TEACHINGS
It's Possible
"With man, this is impossible, but with God…ALL THINGS are possible."  Every great dreamer faces obstacles that seem insurmountable.  The voices of opposition are, by far, the greatest enemy to your success.  Learn how to shut off the voices that hold you back and step into the life of possibilities that await you  This teaching includes Staci's song, "It's Possible" as well as her life-changing teaching that will inspire you to NEVER GIVE UP!
Embracing Change
Learn how to embrace the changes necessary to grow out of old behaviors and into the life of leadership and impact you were born to live.  Within each of us lies the seeds to be more than we thought we could be and NOW is the time emerge out of limiting beliefs, negative thought patterns and to jump into a life of greater effectiveness. Four modules include: 1. The Power of A Dream 2. Escaping Mediocrity 3. Metamorphosis 4. Living The Dream
Developing a Healthy Self-Image
Do you struggle with rejection, failure or insecurities due to past circumstances? Join Staci as she looks at the root of rejection and self-image issues to reveal the biblical truths about YOUR destiny and purpose.  The enemy would LOVE to kill, still and destroy your effectiveness but in this teaching, you will discover the abundant life that awaits you and the process to break free from the chains that have held you back from your full potential.
Dew Season
Every dream has an appointed "dew" season. Understanding where you are in the process of engineering your vision helps to maintain patience and dedication in moving from where you are to where you dream of being. This inspirational message will help you recognize and maximize the season you are in and help you mature on the way to making your goals a reality.