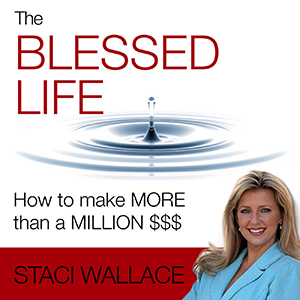 The Blessed Life Podcast with Staci Wallace is designed to empower business leaders, entrepreneurs, and legacy-minded thinkers to align with Biblical success strategies and operate under THE BLESSING so their efforts equate to lasting increase and wholeness. For over 29 years, Staci has used the same Biblical strategies she shares here to help build billion dollar businesses, work with some of today's most notable leaders, as well as live by example in her own life strategies, marriage and family. Learn how to make "MORE" than a million dollars through key principles on generosity, intentional investing, creating legacy business plans, and living out a kingdom-focused life strategy others can duplicate. Staci Wallace is an award winning speaker, life coach, recording artist and serial entrepreneur. Expect to be BLESSED so you can be a blessing!

CLICK HERE to listen on iTunes.
________________________________________________________________
Click below to download the weekly notes:

WEEK 1:  GENEROSITY & THE MARKETPLACE
WEEK 2:  THE #1 SECRET TO WEALTH
WEEK 3:  HOW TO MULTIPLY WHAT YOU'VE GOT
WEEK 4:  THE PRAYER OF JABEZ
WEEK 5:  THE POWER OF EFFECTIVE PRAYER
WEEK 6:  HEAVENLY BREAKTHROUGH
WEEK 7:  MASSIVE COMEBACK STORIES
WEEK 8:  THE MAKING OF A LEADER
WEEK 9:  JESUS, CEO
WEEK 10:  THE POWER OF A GOD-INSPIRED DREAM
WEEK 11:  THE MEANING OF EASTER (WALLACE FAMILY)
WEEK 12:  ROOT BEHAVIORS OF A BLESSED LIFE
WEEK 13:  MAKING ROOM FOR YOUR FULL POTENTIAL
WEEK 14:  GOING PUBLIC
BREAK
Our Next 8 weeks will cover the book, "The Circle Maker", the best book on business and prayer I have ever read.  This book WILL radically transform your life!

WEEK 17:  THE CIRCLE MAKER (Intro: THE STORY)
WEEK 18:  THE CIRCLE MAKER (Ch. 1-3:  DIGGING DITCHES)
WEEK 19:  THE CIRCLE MAKER (Ch. 4-5: MULTIPLICATION)
WEEK 20:  THE CIRCLE MAKER (Ch. 6-7:  DREAM BIG…START SMALL)
WEEK 21:  THE CIRCLE MAKER (Ch. 8-9:  PERSISTENCE)
WEEK 22 :  THE CIRCLE MAKER (Ch. 10-11:  JUST IN TIME)
WEEK 23 : THE CIRCLE MAKER (Ch. 12:  SEED/TIME/HARVEST)
WEEK 24:  THE CIRCLE MAKER (Ch. 13-14:  SONIC BOOM!)

LISTEN TO ARCHIVES on iTunes
Let's connect on Facebook too!